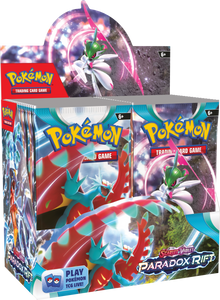 Paradox Rift Booster Box
Dive into the clouds and explore a land that appears to be unbound by time! With ferocious attacks, Ancient Pokémon like Roaring Moon ex and Sandy Shocks ex appear alongside artificial Future Pokémon like Iron Valiant ex and Iron Hands ex. Meanwhile, Garchomp ex, Mewtwo ex, and others Terastallize to gain new types, as Armarouge ex, Gholdengo ex, and more Pokémon ex join the fray. Adventure awaits as timelines collide in the Pokémon TCG: Scarlet & Violet—Paradox Rift expansion!
Product Highlights
6 Booster Boxes per case
36 booster packs per box
Over 180 cards

New Ancient and Future Pokémon

Type-shifted Tera Pokémon ex with a crystalline appearance, including a Water-type Garchomp ex

More than 15 brand-new Pokémon ex

More than 20 Trainer cards

Dozens of Pokémon and Trainer cards with special illustrations

Release Date: November 3 2023
Set Name: Pokemon: Scarlet & Violet - Paradox Rift
All trading card sales are final due to potential price fluctuations and to prevent tampering. Unfulfilled orders may only be cancelled within 12 hours of purchase
. All fulfilled or shipped orders may not be cancelled or refunded. No exceptions.