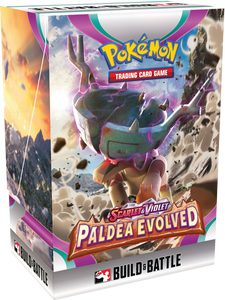 Paldea Evolved Build & Battle Box
Energy surges as new powers awaken and perilous legends are revealed! First partners Meowscarada ex, Skeledirge ex, and Quaquaval ex have evolved to take the stage with mesmerizing magic, song, and dance. Meanwhile, Forretress, Slowking, and Dedenne shine as Tera Pokemon ex, and Chien-Pao ex, Ting-Lu ex, and others bring daunting strengths requiring courage to command. Even Pikachu joins the Pokemon ex party in the Pokemon TCG: Scarlet & Violet-Paldea Evolved expansion!
Product Highlights
4 Booster Packs




1 of 4 Holo Promo Cards




A 23 Card Evolution Pack




Deck Building Tip Sheet



Release Date: June 16 2023
Set Name: Pokemon Scarlet & Violet - Paldea Evolved
All trading card sales are final due to potential price fluctuations and to prevent tampering. Unfulfilled orders may only be cancelled within 12 hours of purchase. All fulfilled or shipped orders may not be cancelled or refunded. No exceptions.