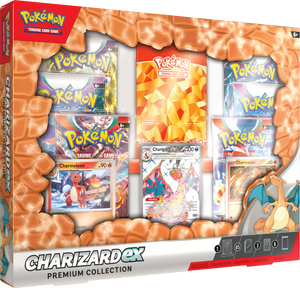 Charizard ex Box
Charizard ex burns up the opposition's lead with the cunning firepower of a Darkness-type Pokémon! Evolve it from Charmander and Charmeleon, then use its strong Ability and attack to make a roaring comeback. A full set of card sleeves helps keep your deck looking great, and after the battle's done, you can put this special Tera Pokémon ex on display in the durable card protector featuring a handy magnetic closure.
Product Highlights
Receive a sealed case when you buy 6

1 etched foil promo card featuring Charizard ex

2 foil cards featuring Charmander and Charmeleon

6 Pokémon TCG booster packs

1 magnetic card protector with display base

65 card sleeves featuring Charizard as a Tera Pokémon


A code card for Pokémon TCG Live
Set Name: Pokemon: Scarlet & Violet - Obsidian Flames
All trading card sales are final due to potential price fluctuations and to prevent tampering. Unfulfilled orders may only be cancelled within 12 hours of purchase
. All fulfilled or shipped orders may not be cancelled or refunded. No exceptions.