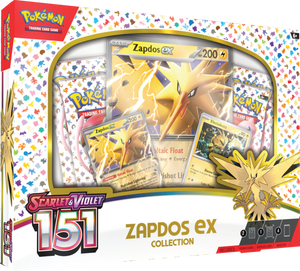 Zapdos ex Collection Box
Strike with electrifying power and then retreat as fast as lightning with Zapdos ex! This Legendary Pokemon of the Kanto region is here as a ready-to-play promo card and an oversize card for your collection, along with a foil card featuring Electabuzz, and more Pokemon inside booster packs from the special Scarlet & Violet-151 expansion.
Product Highlights
Limit 6 Per Person

4 Pokemon 151 Booster Packs
1 Promo Card Featuring Zapdos ex
1 Promo Card Featuring Elecatbuzz
1 Oversized Zapdos es
1 Code Card
Set Name: Pokemon: 151 English Set
All trading card sales are final due to potential price fluctuations and to prevent tampering. Unfulfilled orders may only be cancelled within 12 hours of purchase
. All fulfilled or shipped orders may not be cancelled or refunded. No exceptions.