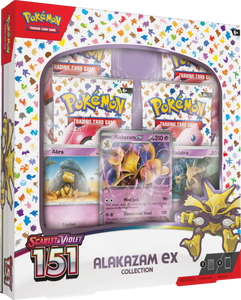 Alakazam ex Collection Box
Attack from the Bench-with Alakazam ex! Alakazam ex plays mind tricks on your opponent by attacking from the Bench! After evolving from Abra and Kadabra, this formidable Pokemon ex shows off its Psychic-type prowess no matter where it stands on the battlefield.
Product Highlights
Limit 6 Per Person
4 Pokemon 151 Booster Packs
1 Promo Card Featuring Alakazam ex
1 Promo Card Featuring Kadabra

1 Promo Card Featuring Abra 



1 Code Card

Set Name: Pokemon: 151 English Set
All trading card sales are final due to potential price fluctuations and to prevent tampering. Unfulfilled orders may only be cancelled within 12 hours of purchase
. All fulfilled or shipped orders may not be cancelled or refunded. No exceptions.